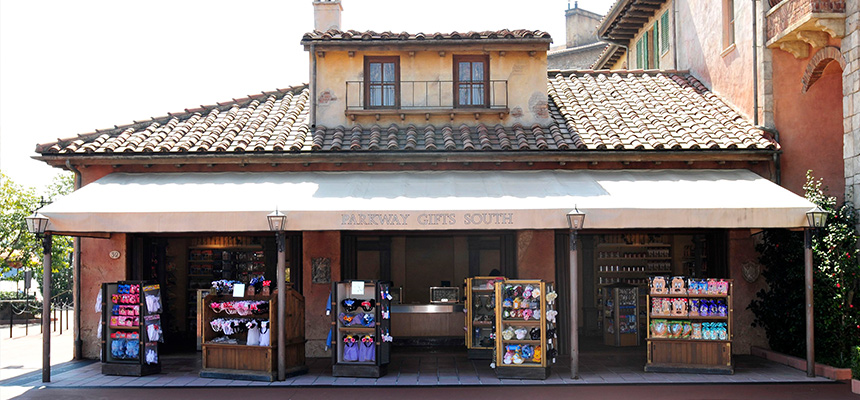 Two shops outside the Park with a range of popular souvenirs.
Popular Tokyo DisneySea souvenirs and other merchandise are available at these two shops located outside the Park's Main Entrances. The shops are open from 30 minutes before the Park opens until 30 minutes after the Park closes.

- The shop hours are subject to change without notice.
Temporary Closure of Park Facilities:2020/7/1 - TBD
Map
写真はイメージです。店舗の取り扱い品や装飾・什器は変更となる場合がございます。また、取り扱い品は品切れや販売終了となることがございますので予めご了承ください。
天候、季節、時間帯によりクローズすることがあります。
Photos are concept images. The shop's merchandise, decorations and fixtures are subject to change. Merchandise may be sold out or discontinued.
May close depending on the weather, season or time period.
圖片僅供參考。店內商品、裝潢等有可能不經預告而變更。此外,商品有可能因暫無庫存或翻新款式而停止銷售。
本設施有可能依天候、季節、時段而歇業。
图片仅供参考。本商店销售的商品及店内装饰可能变更。另外,商品可能出现售完或停止销售的情况,敬请谅解。
由于天气、季节或时段原因,本商店可能会暂停营业。
사진은 이미지입니다. 점포의 취급 물품 또는 장식 등은 변경되는 경우가 있습니다. 또한, 취급 상품은 품절 및 판매 종료되는 경우가 있으므로 이 점 양해해 주시기 바랍니다.
날씨, 계절, 시간대에 따라 운영을 종료하는 경우가 있습니다.