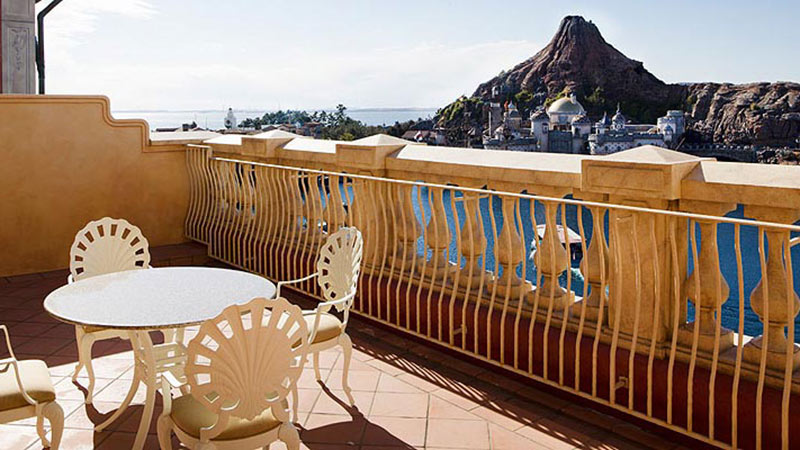 Some guest rooms offer views of the harbor. Feel like you yourself are the main character from a Tokyo DisneySea story.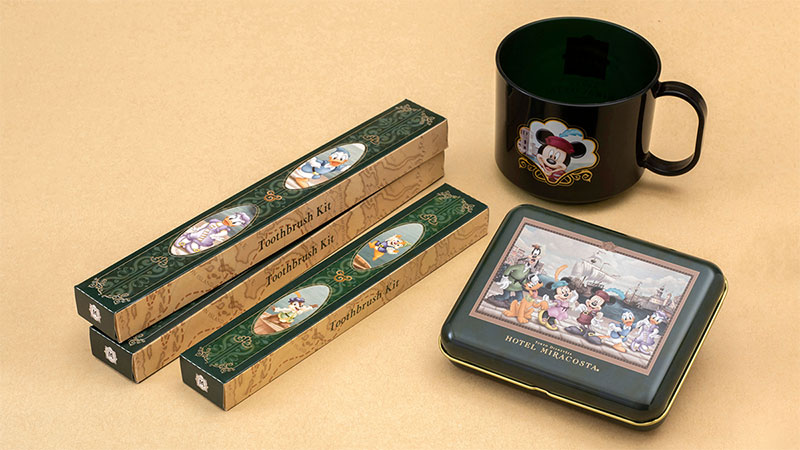 Room amenities featuring Disney Character designs are provided in the room.

Please note that individual shampoo and conditioner bottles will be replaced with bulk dispensers. You may not take the dispensers with you when you leave.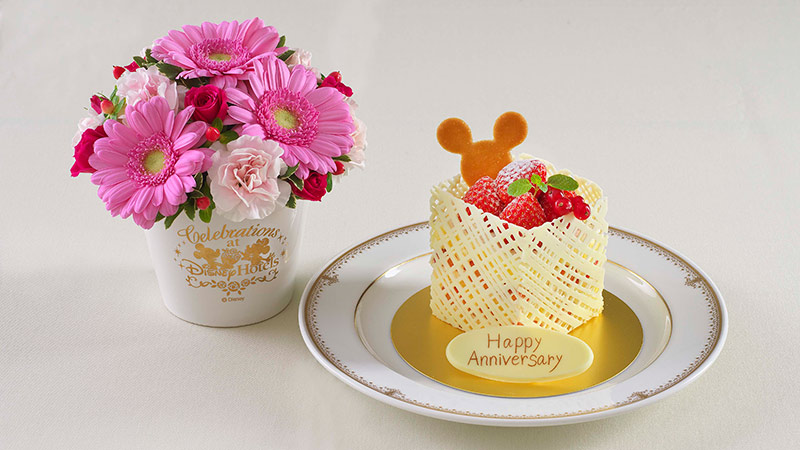 Guests can also take advantage of unique Disney Hotels packages to celebrate birthdays or special events with cakes and flowers.
List of Guest Rooms
Check-in: 3:00 p.m. Checkout: 12:00 noon
Befitting a hotel built right inside the theme park, all 502 guest rooms are sprinkled with Disney magic. Each of the three sides of the hotel ― the Tuscany Side, the Venice Side, and the Porto Paradiso Side ― offers a different ambience and charm.
Speciale Rooms and Suites come with breakfast, and also include access to an exclusive lounge offering check-in/checkout and beverage services.
Speciale Rooms and Suites
(Venice Side)
Location of the Guest Rooms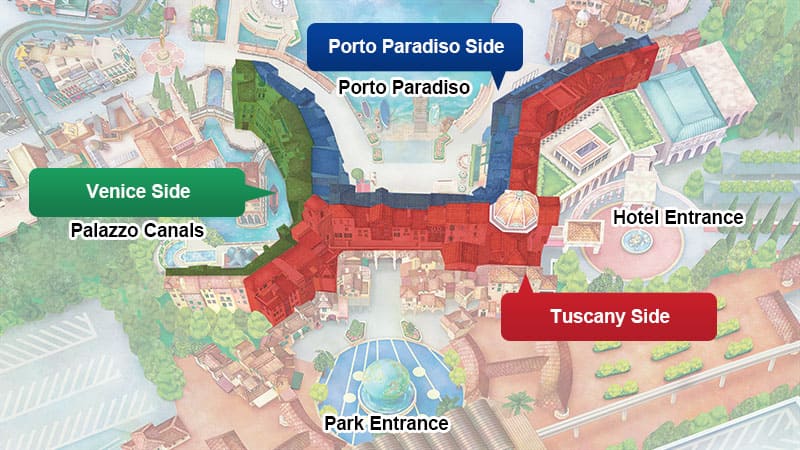 Regarding the view from rooms on the Porto Paradiso Side
Partial View
These rooms face the town of Porto Paradiso, but the view may be partially obstructed by the walls and roofs of buildings in the town.

Piazza View
These rooms afford a view of the piazza and townscape of Porto Paradiso. The Piazza Grand View rooms include a partial view of the harbor.

Harbor View
These rooms afford a panoramic view of the entire harbor of Porto Paradiso. The Terrace Room with Harbor Grand View offers a breathtaking view of the harbor from a spacious terrace.
Speciale Rooms and Suites are located on either the Venice Side or the Porto Paradiso Side.
Explanations about the different sides of the hotel indicate the style and atmosphere of the hotel's exterior design, and are not a guarantee of the views.
Bed Types and Sizes
Bed
Size (cm)
Maximum capacity per bed
- Bedshare is only for children ages 11 and under.
Regular
120×210×55
Maximum of 2 Guests (including 1 bedshare)
Double
180×210×55
Maximum of 4 Guests (including 2 bedshares)
Double (Il Magnifico Suite)
180×210×60
Maximum of 4 Guests (including 2 bedshares)
Double (Terrace Room)
160×210×55
Maximum of 4 Guests (including 2 bedshares)
Double (Accessible)
180×210×45
Maximum of 4 Guests (including 2 bedshares)
Trundle Bed
100×190×27
Maximum of 1 person
Cruise Bed
84×182×55
Maximum of 1 person
Cruise Bed (Harbor Room, Palazzo Patio Room)
85×184×55
Maximum of 1 person
Crib for infants
60×110×109
This bed can only be used by children under 18 months of age.
- Advance reservation required