List of Facilities / Floor Map
Shops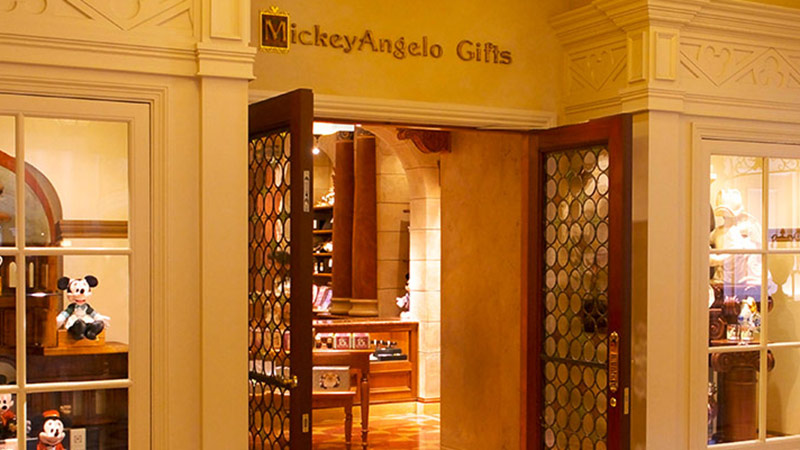 MickeyAngelo Gifts2F
8:00 a.m. – 10:00 p.m.
- Shop hours may change depending on the season or the day of the week.
Map number: 4
This shop offers a broad range of items, including original merchandise found only at Tokyo DisneySea Hotel MiraCosta, Tokyo Disney Resort merchandise, and daily-use items for the convenience of Guests.
The hotel does not have a drugstore, and does not sell medicinal products. Please contact a Cast Member for the location of the nearest drugstore.
Please refrain from eating and drinking in the lobby or other public spaces.
Close
Guest Service Facilities
Reception2F
Map number: 5
Located in the lobby, the Reception counter handles check-in and checkout procedures, accepts letters and cards for delivery to the post office, and provides various other services. Guests are welcome to drop by at any time.

Services Provided
Check-in / checkout
Postal Services (fee required)

Upon request, Guests can have their letter imprinted with the hotel's special stamp.

Telegrams
Copy / fax (fee required)
Information on safe-deposit boxes
Information on Storage Lockers for laptop computers
Currency exchange (using an automatic foreign currency exchange machine, only for changing foreign currency into Japanese yen)
Sale of Park tickets (6:00 a.m. – 10:00 p.m.)
Close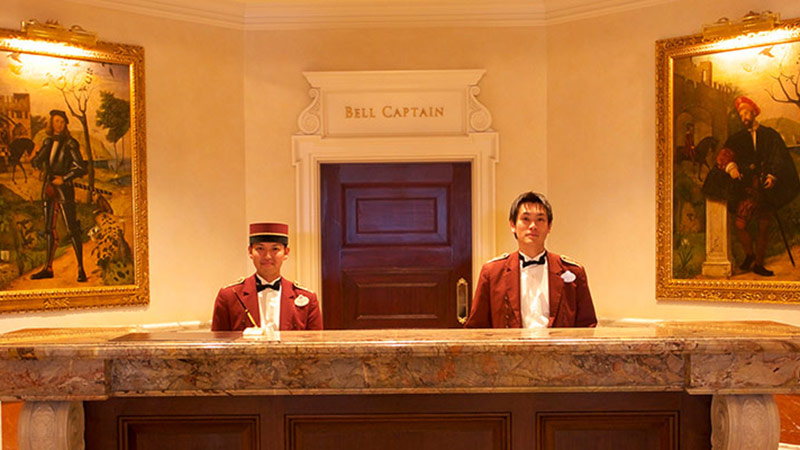 Bell Desk2F
Map number: 6
At the Bell Desk located in the lobby, Guests can have their baggage stored, book seats for the airport limousine bus, and ask any questions they may have during their stay. Guests are welcome to drop by at any time.

Close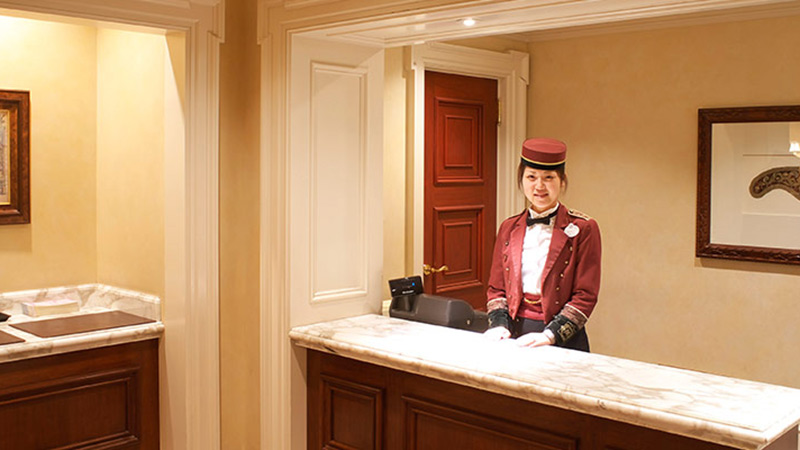 Home Delivery Service Counter2F
7:00 a.m. – 4:00 p.m.
Map number: 7
Guests can have their baggage or shopping delivered from the hotel to their home.。

Services Provided
Delivery service for baggage and shopping


Payment is by cash only. Credit cards, coupons, etc. are not accepted.
Close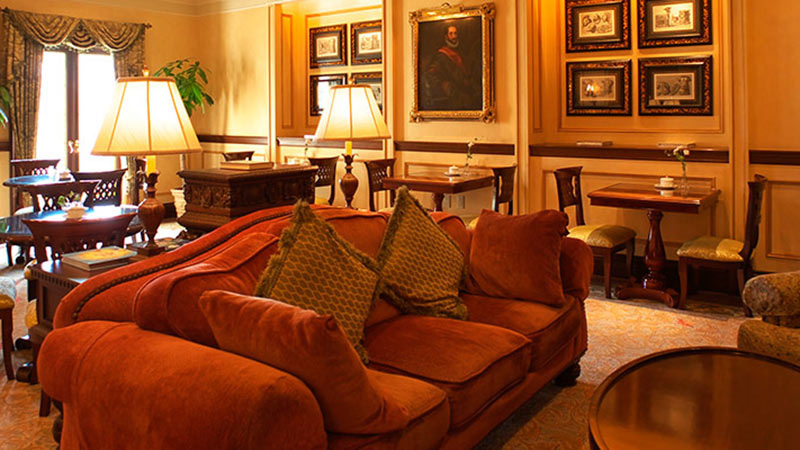 Salone dell'Amico5F
7:00 a.m. – 10:00 p.m.
- The lounge is available from 2:00 p.m. on the day of check-in until 12:00 noon on the day of checkout for Guests staying in the applicable guest rooms.
The Salone dell'Amico is for the exclusive use of Guests staying in a Speciale Room or Suite.
Guests can check in and out, and enjoy a beverage, in a salon with a spacious and relaxing ambience.
Breakfast is served at the BellaVista Lounge. Guests staying in the Suites, Harbor Rooms, or Terrace Rooms may also choose to have breakfast served in their room.
Services Provided
Check-in / checkout
Beverage service

The salon is for the exclusive use of Guests staying in the Speciale Rooms and Suites.
Smoking is not permitted in the salon.
Close
Other facilities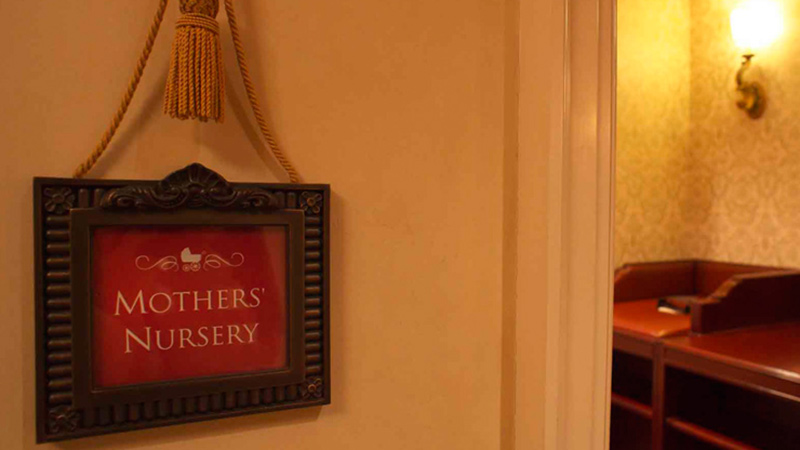 Mother's Nursery2F
Map number: 9
Located on the lobby floor (second floor), this facility can be used to nurse infants and change diapers.
Close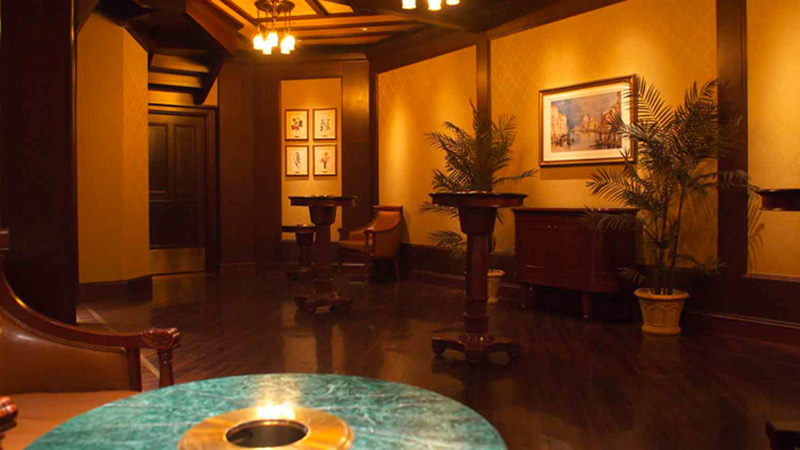 Smoking Lounge2F
Map number: 10
Tokyo DisneySea Hotel MiraCosta is a non-smoking hotel. For Guests who wish to smoke, please use the Smoking Lounge located on the Lobby floor (second floor).
Close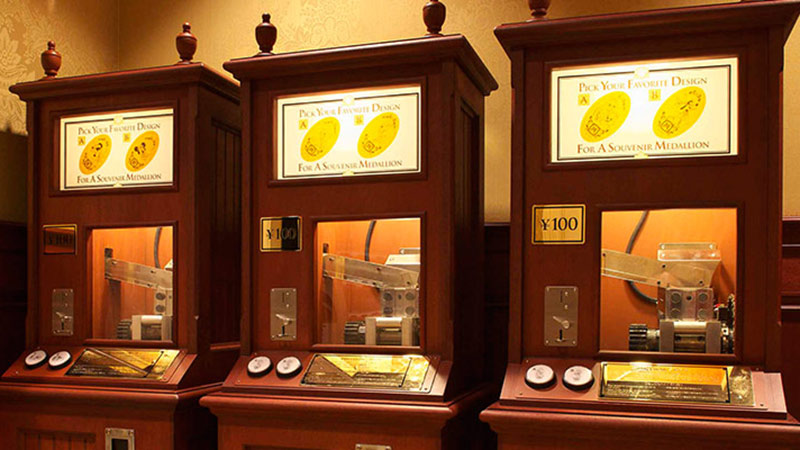 Medallion Makers2F
Map number: 11
Guests can make their own Souvenir Medallion with an exclusive hotel design using the Medallion Makers located across from the public telephones. Take home a souvenir medallion as a memento of your visit to the hotel.

Price
¥100 per medallion
The designs of the souvenir medallions are subject to change.
Close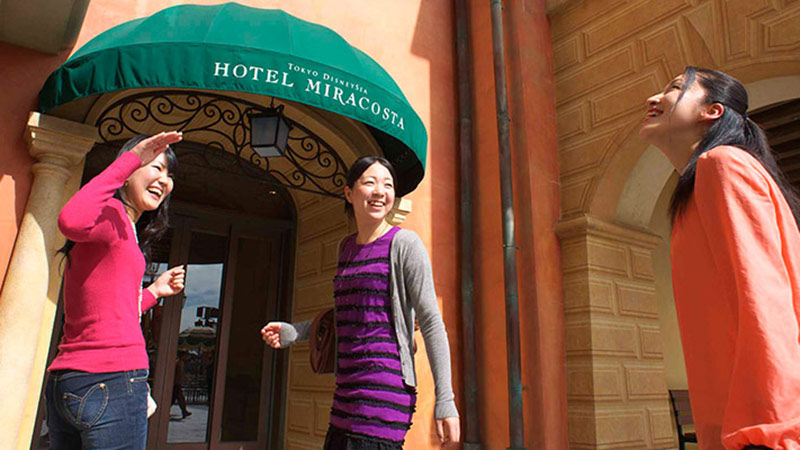 Hotel/Park Gateway2F
Map number: 12
Tokyo DisneySea Hotel MiraCosta has an entrance called the Hotel/Park Gateway that gives Guests direct access to Tokyo DisneySea.

Please note these temporary modifications to this service.

Hotel Guests can use this entrance from 1 hour after regular Park opening time for entry and re-entry to Tokyo DisneySea.
Hotel Guests can use this entrance to exit Tokyo DisneySea.
Close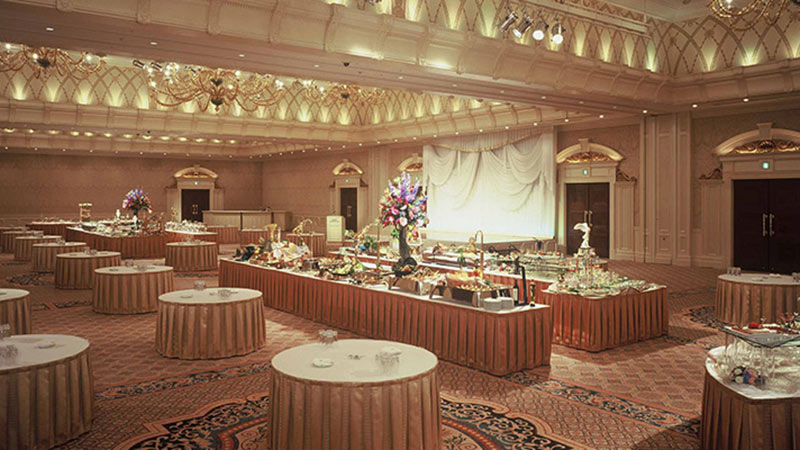 Banquet Rooms2F
Map number: 13
A grand ballroom and mid-sized banquet rooms in classic Italian style are decorated with majestic Venetian glass chandeliers.
Small banquet rooms that provide a view of Mediterranean Harbor through the windows are also available. Enjoy the kind of atmosphere that can only be found at a hotel located inside a Disney Park.

Banquet rooms
"Paradiso" ballroom
"Amore" banquet room
"Romanzo," "Felicità," and "Fortuna" small banquet rooms
Close
Bridal Salone2F
Map number: 14
Please contact the Bridal Salone about booking a wedding or visiting the hotel to learn more about the hotel's wedding services.
Please telephone the Bridal Salon before coming to the hotel.
Close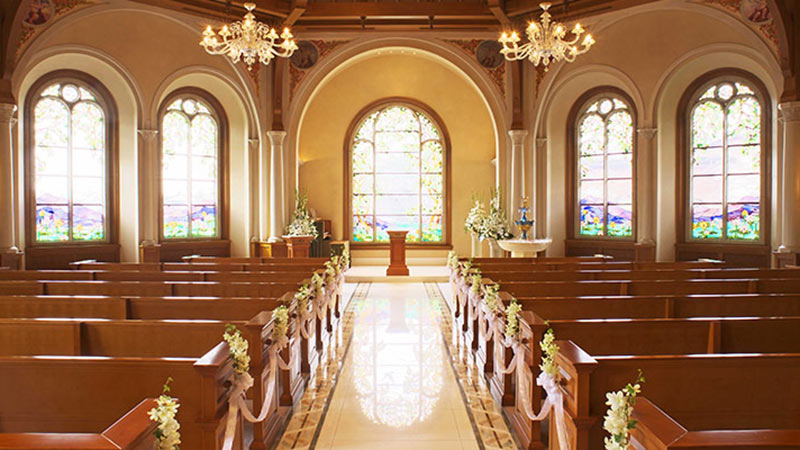 Chapel MiraCosta2F
Map number: 15
This octagonal-shaped wedding chapel featuring stained glass windows looks out at Mount Prometheus in Tokyo DisneySea.
The soft light coming in through the impressive stained glass windows will envelop the bride and groom as they walk down the white marble aisle.
Close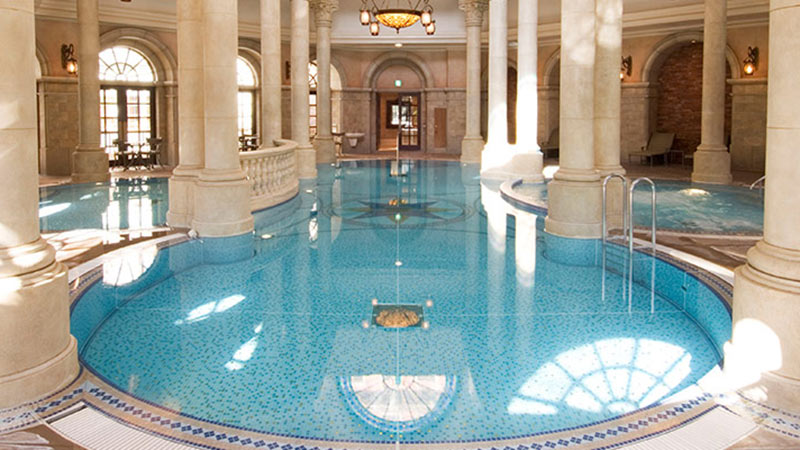 Terme Venezia1F
- Please use the south-side elevator to visit this facility.
An exclusive environment just for hotel Guests, Terme Venezia has an indoor pool with a luxurious interior reminiscent of an ancient Roman bath, and an outdoor pool with the feel of an Italian resort. Guests can also enjoy drinks at the poolside bar, Hippocampi.
| Facility | Indoor Pool / Spa Area | Outdoor pool |
| --- | --- | --- |
| Hours | Open all year | Summer only |
| Hours | 10:00 a.m. – 6:00 p.m. (last admission: 5:30 p.m.) | Summer only |
Admission may be restricted during periods of high attendance in order to ensure safety. Therefore, there may be times when Guests are unable to use the pool even if it is open.
Please be aware that due to inclement weather or other conditions, the pool opening hours may be changed or canceled without prior notice. We thank you for your understanding.
Prices
Prices listed are per day. Re-entry is allowed if it is within the same day.
Adult (ages 12 and over)
Ages 4 to 11
・Spa area use only
・Accompany only
Adult (ages 12 and over)
・Spa area use only
・Accompany only
Ages 4 to 11
Summer
¥4,000
¥2,000
¥2,000
¥1,000
Other than summer
¥3,000
¥1,500
Available only for use by Guests staying at the hotel
Children ages 3 and under are admitted free.
Lockers and towels are available free of charge.
About the facility
To prevent contagion, children who are not toilet trained, persons who are unwell, and those with symptoms of vomiting or diarrhea will not be allowed to enter the pool. Children who are not toilet trained are not allowed to play near the water or use the showers in the pool area. The use of swim diapers is also not allowed.
Re-entry is allowed if it is within the same day. However, please be sure to check out of the hotel before 12:00 noon.
Children ages 7 and above must use the changing room and Spa area of their own gender.
Please refrain from using the locker rooms solely for the purpose of changing your clothes to attend the events at Tokyo Disneyland or Tokyo DisneySea.
Children ages 11 and under must be accompanied by a guardian at least 16 years of age. The accompanying guardian is not required to be in the water with them.
There are no restrictions or regulations on the type of swimwear or on the use of swim caps.
Swimwear can be purchased at the Terme Venezia Reception Counter (not available for rental).
(Men: ¥2,700 / Women: ¥5,200 / Boys: ¥2,600 / Girls: ¥3,900 )
Inflatable tubes and other toys are not allowed. Complimentary arm floats and kickboards are provided.
Please do not bring your own food or beverages into the facilities.
Guests with tattoos may be requested by the hotel to cover their tattoos with a rash guard or other garment.
Smoking is not permitted in Terme Venezia or Hippocampi.
Close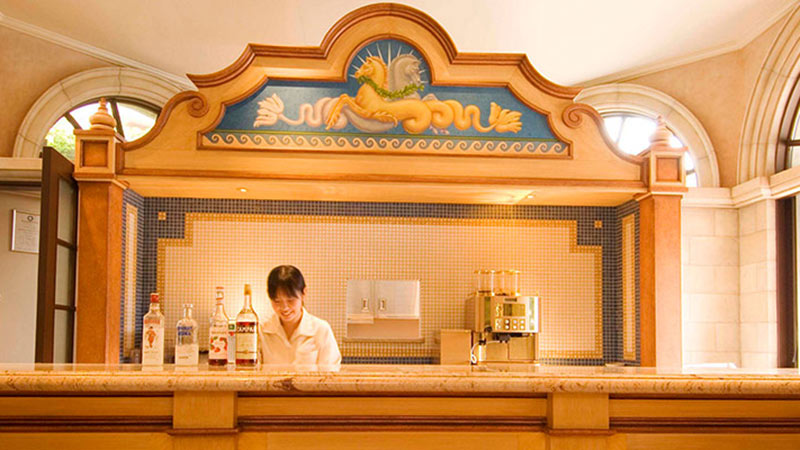 Hippocampi1F
10:00 a.m. – 5:00 p.m.
A poolside bar located inside the Terme Venezia Spa & Pool.
The bar is named after the half-horse, half-fish creature that appears in Greek mythology. Soft drinks and alcoholic beverages can be enjoyed here. Light meals and snacks are currently unavailable.

- In compliance with requests from national and local Japanese authorities, alcoholic beverages may not be available.
Close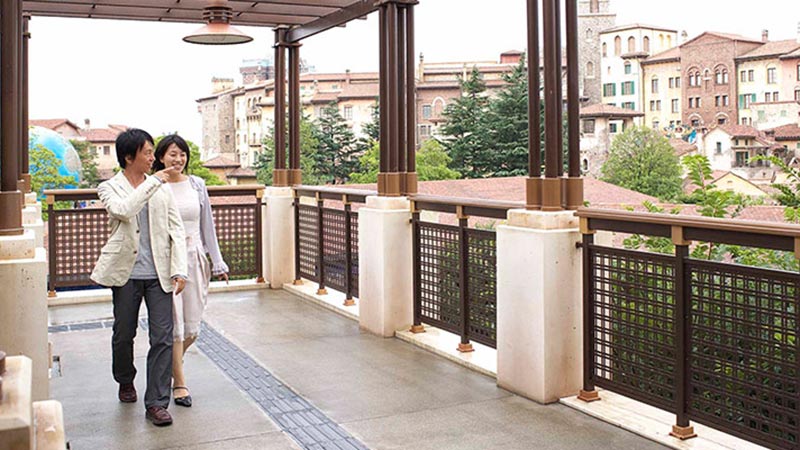 Passageway to the Disney Resort Line Monorail
2F
For Tokyo DisneySea MiraCosta Hotel, take the Disney Resort Line to Tokyo DisneySea Station. Go to the exit at the forward end of the arrival platform, then follow the passageway to the hotel.
Close
Floor Map