List of Facilities / Floor Map
Shops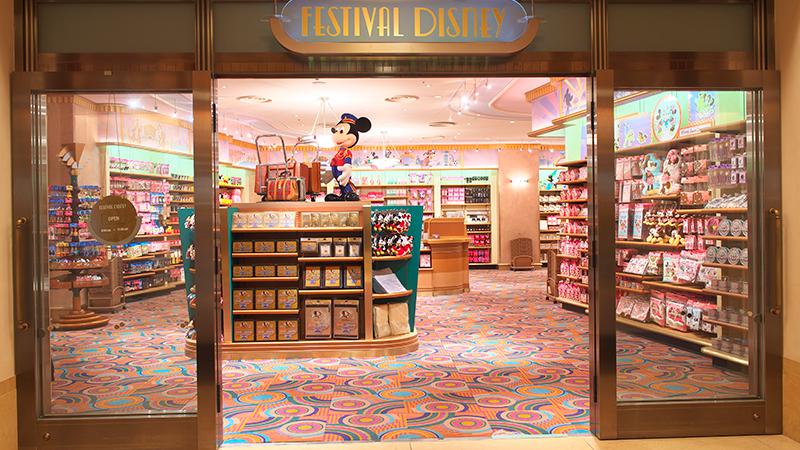 Festival Disney1F
8:00 a.m. – 10:00 p.m.
- Shop hours may change depending on the season or the day of the week.
Map number: 5
This shop offers original Disney Ambassador Hotel merchandise found only here, as well as products from Tokyo Disneyland and Tokyo DisneySea.
The hotel does not have a drugstore, and does not sell medicinal products. Please contact a Cast Member for the location of the nearest drugstore.
Close
Sunset Sundries1F
6:00 a.m. – 12:00 a.m.
Map number: 6
This shop sells a wide variety of daily use items, from soft drinks and snacks to baby food and disposable diapers.

The hotel does not have a drugstore, and does not sell medicinal products. Please contact a Cast Member for the location of the nearest drugstore.
Please refrain from eating and drinking in the lobby or other public spaces.
Plastic bags are available for a separate fee (5 yen per bag).
Close
Guest Service Facilities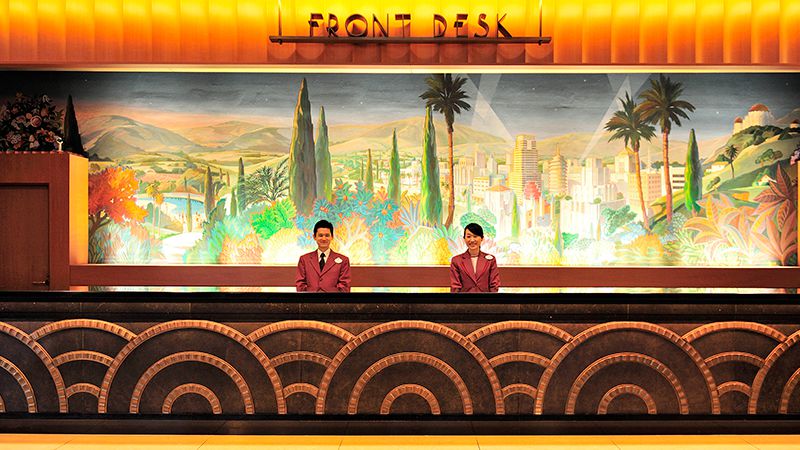 Front Desk1F
Map number: 7
Located in the lobby, the Front Desk handles check-in and checkout procedures and provides various other services.

Services Provided
Check-in / checkout
Copy / fax (fee required)
Information on safe-deposit boxes
Information on Storage Lockers for laptop computers
Currency exchange (using an automatic foreign currency exchange machine, only for changing foreign currency into Japanese yen)
Postal Services (fee required)

Upon request, Guests can have their letter imprinted with the hotel's special stamp.
Close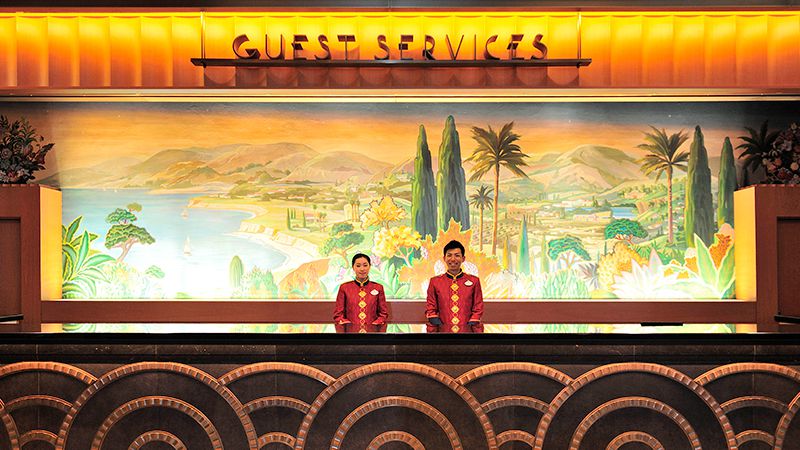 Guest Service Counter1F
Map number: 8
At the Guest Service Counter located in the lobby, Guests can purchase Park tickets, have their baggage stored, book seats for the airport limousine bus, and ask any questions they may have during their stay.

Services Provided
Sale of Park tickets (6:00 a.m. – 10:00 p.m.)
Please see here for available ticket types

Only available to Guests staying at the hotel

Baggage storage before check-in and after checkout

The Guest Service Counter cannot store notebook computers or other fragile electronic equipment. Please use the Storage Lockers for laptop computers found in the safe deposit room on the lobby floor.

Receipt of baggage and merchandise delivered by the Baggage Delivery Service or Shopping Delivery Service
Wheelchair rental
Rental of baby bottle sterilization kit
Close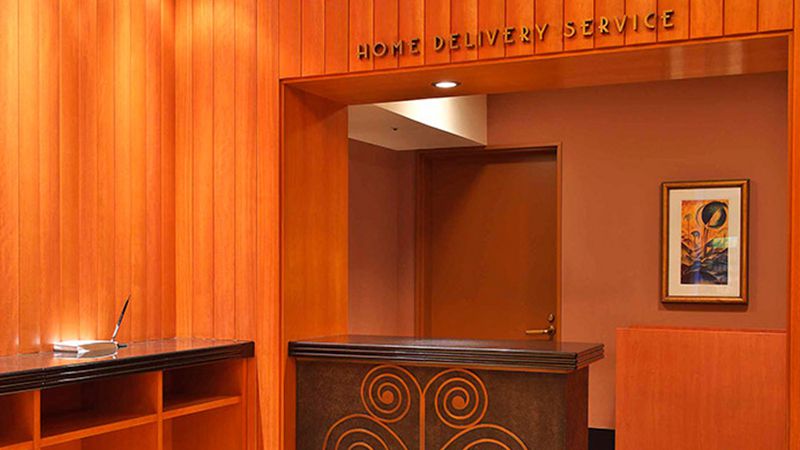 Home Delivery Service Counter1F
7:00 a.m. – 4:00 p.m.
Map number: 9
Guests can have their baggage or shopping delivered from the hotel to their home.

Services Provided
Delivery service for baggage and shopping

Payment is by cash only. Credit cards, coupons, etc. are not accepted.
Close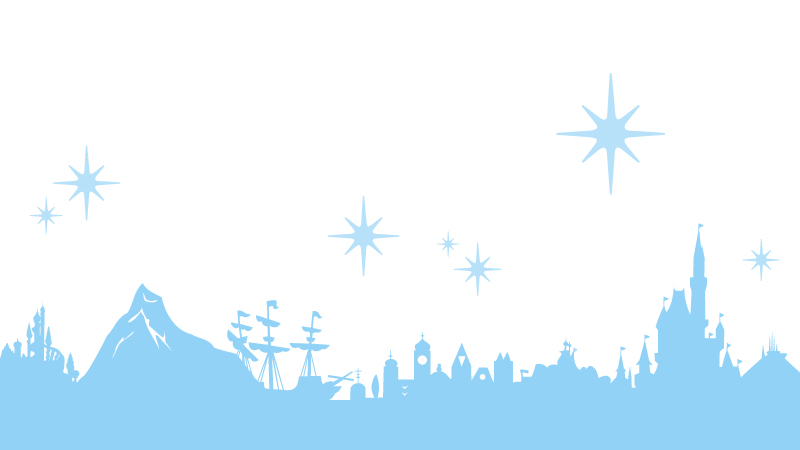 Ambassador Lounge6F
7:00 a.m. – 10:00 p.m.
- The lounge is available from 2:00 p.m. on the day of check-in until 12:00 noon on the day of checkout for Guests staying in the applicable guest rooms.
The Ambassador Lounge is an exclusive lounge for Guests staying in rooms and suites on the Ambassador Floor. Guests can check in and out, and enjoy beverage, in a lounge with a spacious and relaxing ambience.
Breakfast is served at the Hyperion Lounge. Guests staying in Mickey's Penthouse Suite have the choice of enjoying breakfast either at Hyperion Lounge or at Chef Mickey.
Services Provided
Check-in / checkout
Beverage service
The use of this lounge is limited to Guests staying in rooms and suites on the Ambassador Floor.
Smoking is not permitted in the lounge.
Will be closed temporaliy on the following dates.: April 12, April 17, May 24, May 31, June 7, June 14, June 21, 2024
Close
Other facilities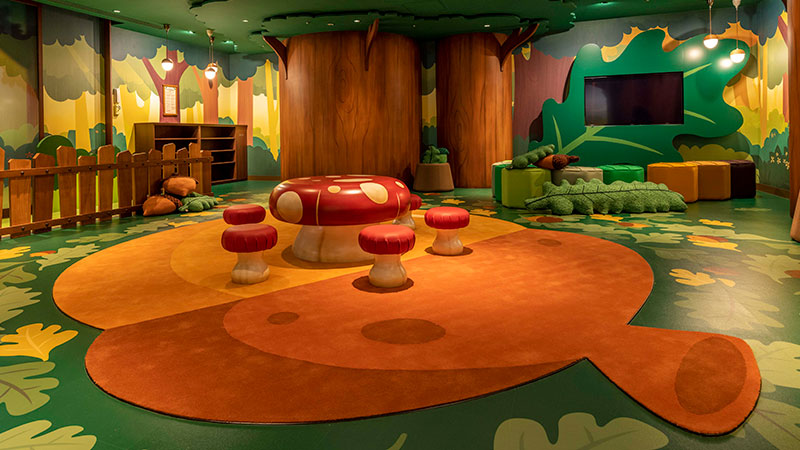 Chip 'n Dale's Playground
1F
8:00 a.m. – 3:00 p.m.
- For times other than those listed above, access is limited to guests who have reserved the applicable plan. For guests who have reserved the applicable plan, please come to the facility at your designated time and follow the Cast Member's instructions to enter. Click here for more details
Map number: 10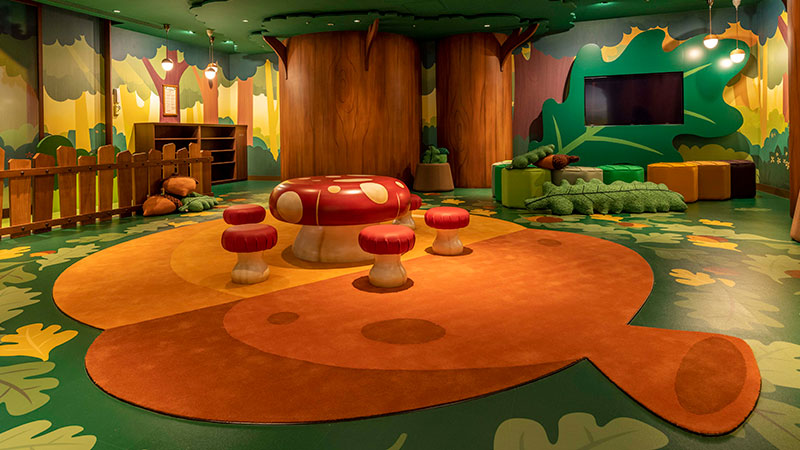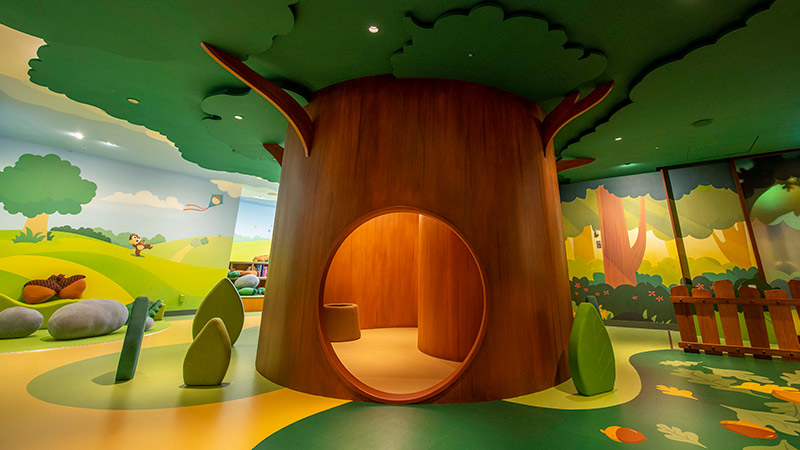 About the facility
This facility is for children (age 11 and under) staying at Disney Ambassador Hotel. Admission is free of charge. (A room key is required to enter the facility.)
This is not a daycare facility. Cast Members are not in regular attendance.
Children must be accompanied by someone age 16 or older, and must be supervised at all times.
Shoes must be removed before entering this facility. Guests in a wheelchair should contact a Cast Member via the facility's intercom. Covers will be provided for the wheelchair's tires.
Operations are subject to change or suspension without notice.
Chip 'n Dale's Playground Rules
For the safety and enjoyment of Guests using this facility, we ask that you abide by the following rules.
We reserve the right to deny admission or remove any person who refuses to comply with these rules.
This facility is not staffed by Cast Members.
To prevent the spread of infection, Guests who are sick or feel unwell should not enter the facility.
Wearing outdoor shoes, eating, drinking, and smoking are prohibited in the facility.
In the interest of safety, please refrain from running, throwing items, climbing on or hanging from shelves or decorative objects, and any other behavior which could cause injury to yourself or other Guests in the facility.
Please take all your trash with you when you leave, as trash cans are not available.
Please refrain from talking on your mobile devices in the facility.
During busy periods, entry to the facility may be restricted in the interest of safety.
The hotel cannot be held responsible for Guest's valuables or other belongings that become soiled, damaged or lost.
Playthings and other items may not be removed from the facility. If a Guest soils, damages, or loses any item belonging to the facility, the Guest will be charged the actual cost.
Dangerous items, including open flames and other heat sources, may not be brought into the facility.
The hotel cannot be held responsible for accidents, injuries, or trouble between Guests that occur in the facility.
If the hotel determines that a Guest has disturbed other Guests or is not complying with the "Chip 'n Dale's Playground Rules," the Guest may be asked to leave the facility.
The terms and conditions of use and operating conditions of the facility are subject to change without notice.
In case of emergency or for other assistance, please use the intercom in the facility.
Close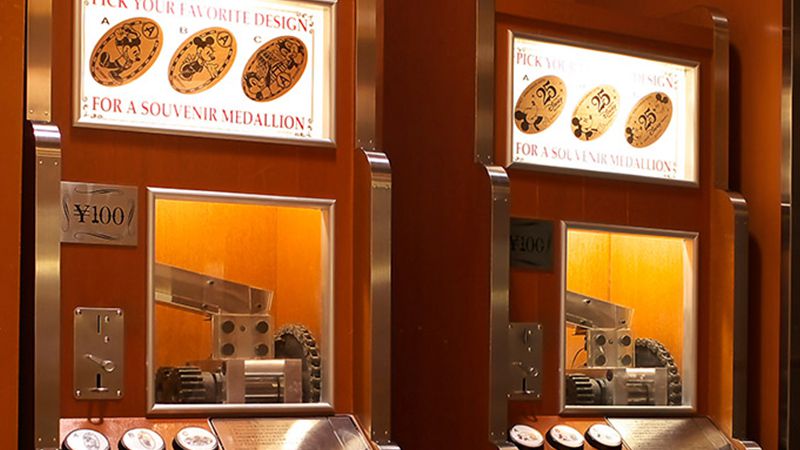 Medallion Makers1F
Map number: 11
Guests can make their own Souvenir Medallion with an exclusive hotel design using the Medallion Makers located across from Sunset Sundries. Take home a souvenir medallion as a memento of your visit to the hotel.

Price
¥100 per medallion

The designs of the souvenir medallions are subject to change.
Close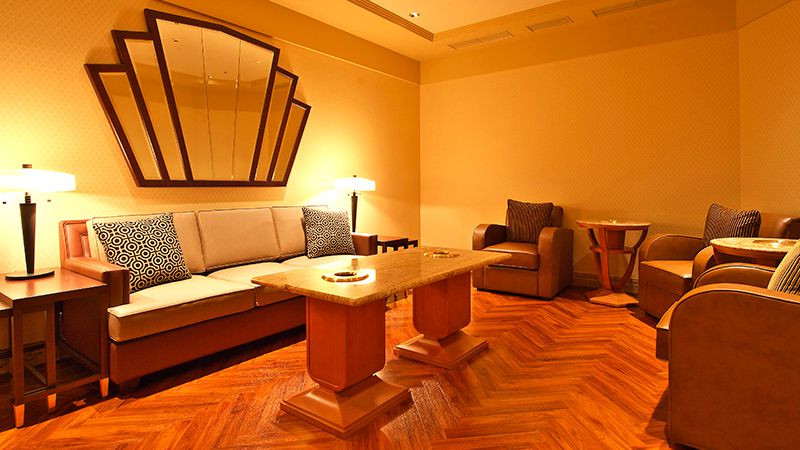 Smoking Lounge1F
Map number: 12
Disney Ambassador Hotel is a non-smoking hotel. For Guests who wish to smoke, please use the Smoking Lounge located on the Lobby floor (first floor).
Close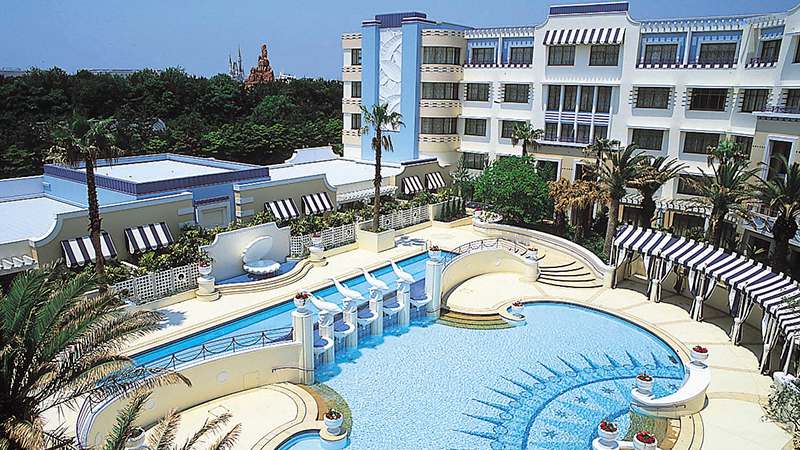 Palm Garden Pool (summer only)2F
8:00 a.m. – 6:00 p.m. (last admission 5:30 p.m.)
Map number: 13
Luscious palm trees and blue and white cabanas enhance the feeling of a resort vacation at this spacious outdoor pool.The pool is split into two areas, with elegant diving dolphin statues overlooking a waterfall that flows into the main pool. Relax in the cooling sights and sounds of this elegant pool and enjoy a moment of luxury.
Hours
・Open in summer only
Prices
The pool is for the exclusive use of hotel guests.
Prices listed are per day. Re-entry is allowed if it is within the same day.
Adult (ages 12 and over): ¥3,000
Ages 4 to 11: ¥1,000
Notes:
Children ages 11 and under must be accompanied by a guardian at least 16 years of age. The accompanying guardian is not required to be in the water with them. (Admission fee: ¥3,000).
Children age 3 or under are admitted free.
Lockers and towels are available free of charge.
Admission may be restricted during periods of high attendance in order to ensure safety. Therefore, there may be times when Guests are unable to use the pool even if it is open.
Please be aware that due to inclement weather or other conditions, the pool opening hours may be changed or canceled without prior notice. We thank you for your understanding.
About the facility
To prevent contagion, children who are not toilet trained, persons who are unwell, and those with symptoms of vomiting or diarrhea will not be allowed to enter the pool. Children who are not toilet trained are not allowed to play near the water or use the showers in the pool area. The use of swim diapers is also not allowed.
Re-entry is allowed if it is within the same day. However, please be sure to check out of the hotel before 12:00 noon.
Children ages 7 and above must use the changing room of their own gender.
Please refrain from using the locker rooms solely for the purpose of changing your clothes to attend the events at Tokyo Disneyland or Tokyo DisneySea.
Inflatable tubes and other toys are not allowed. Complimentary arm floats are provided.
Please do not bring your own food or beverages into the facility.
Guests with tattoos may be requested by the hotel to cover their tattoos with a rash guard or other garment.
Please refrain from entering the pool area only to walk or take a look around.
Smoking is not permitted in the Palm Garden Pool area.
Palm Garden Bar
Guests can order soft drinks, alcoholic beverages and snacks from this bar located at Palm Garden Pool.
The bar is only available for Guests using the pool.
Close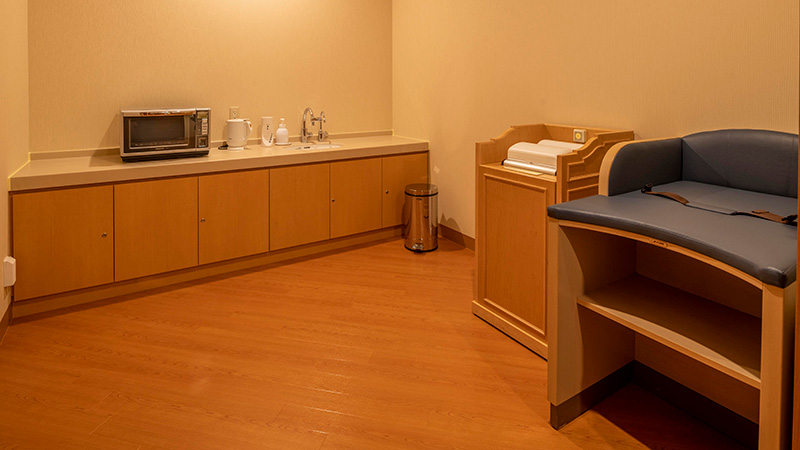 Baby Care Room1F
Map number: 14
Located on the first floor, this facility can be used to nurse infants and change diapers.
Close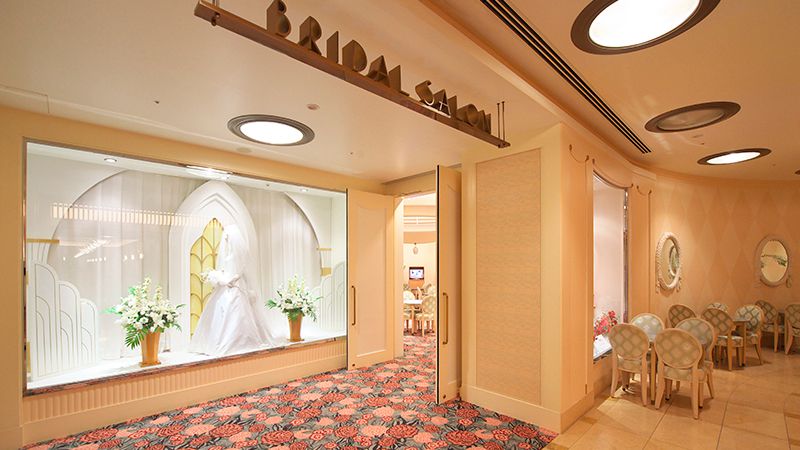 Bridal Salon2F
Map number: 15
Please contact the Bridal Salon about booking a wedding or visiting the hotel to learn more about the hotel's wedding services.
Please telephone the Bridal Salon before coming to the hotel.
Close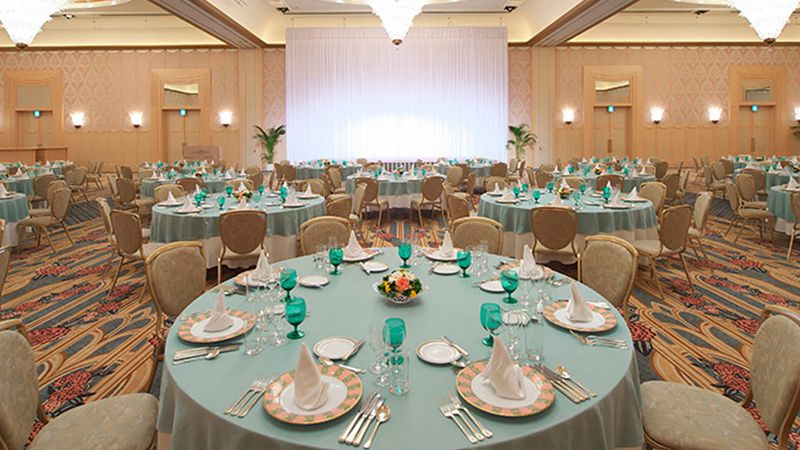 Banquet Rooms2F
Map number: 16
The banquet floor blends together Art Deco style with numerous motifs from the classic Disney film Fantasia. From the large banquet hall to smaller banquet rooms, a variety of venues are available to accommodate any type of party.

Banquet room
"Fantasia" ballroom
"Dream" and "Magic" banquet rooms
"Legend," "Harmony," "Happiness," and "Hope" small banquet rooms
Close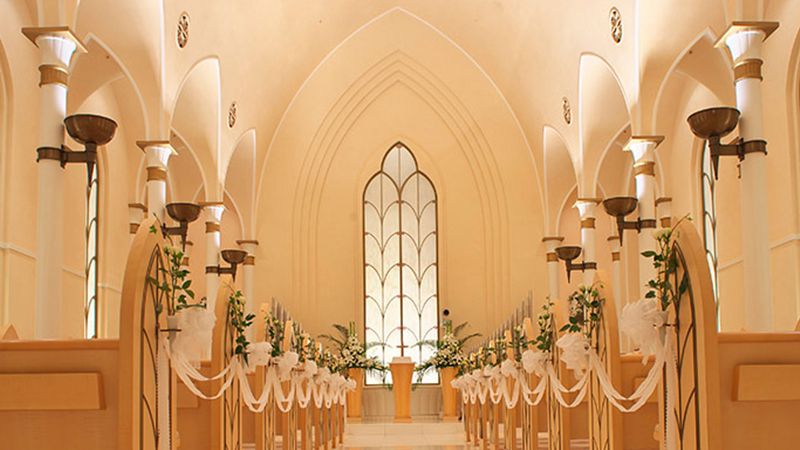 Rose Chapel2F
Map number: 17
With a romantic pale pink interior, this chapel is filled with gentle light and the sweet scent of flowers. The main aisle of white marble extends for 15 meters under a 10-meter high arched ceiling to create an open and spacious atmosphere.
Please telephone the Bridal Salon before coming to the hotel.
Close
Floor Map