Approach to promoting health and safety at the Disney Hotels
We will continue to prioritize the safety of our Guests and Cast Members as we provide services in line with COVID-19 safety guidelines issued by the Japan Hotel Association.
Approach to promoting health and safety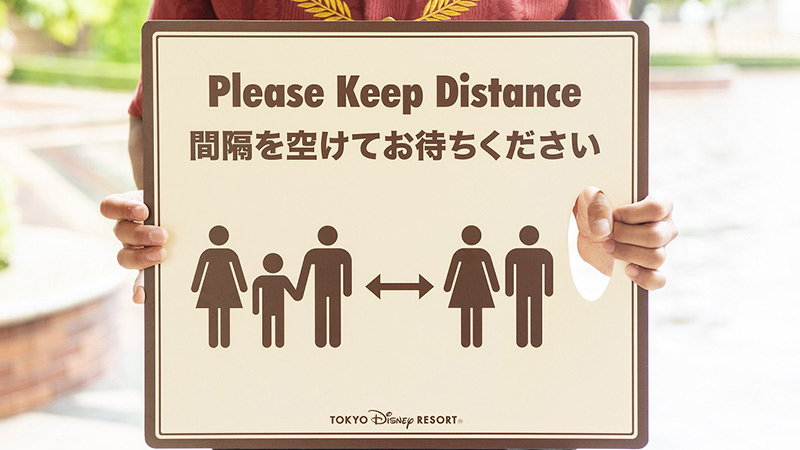 Disney Hotels will reopen with controlled capacity during the initial phase
We are planning increased cleaning and sanitization in guestrooms, restaurants, and other areas of the building. In particular, we will focus on areas that have the possibility of being touched frequently.
Items that are provided to guests for temporary use or rental will be sanitized every time after being used.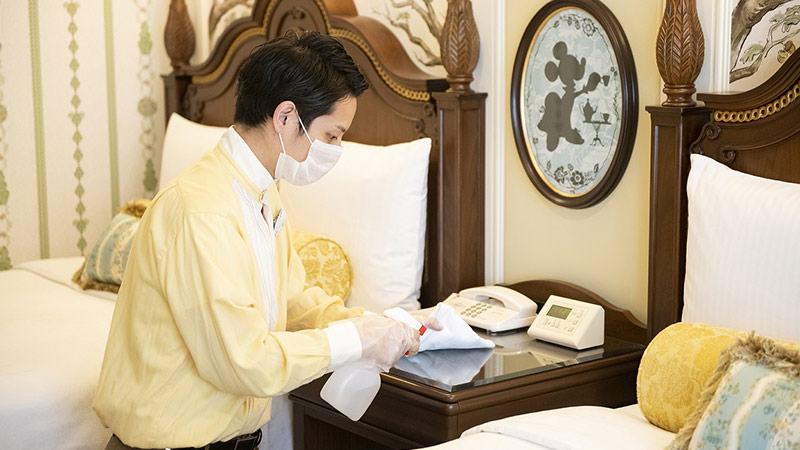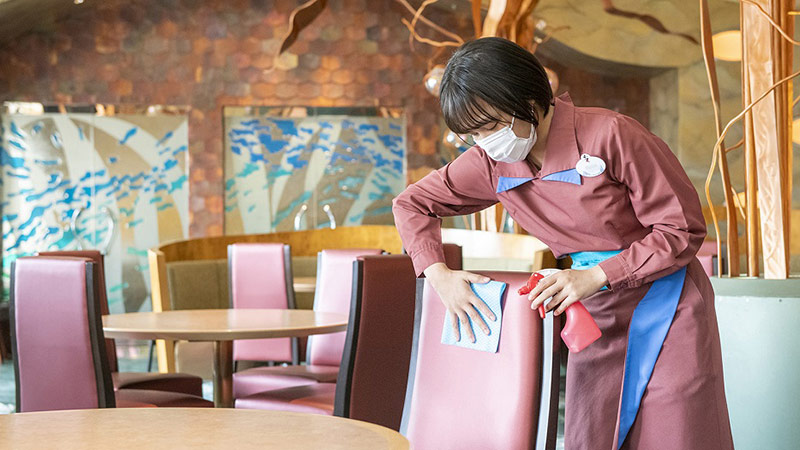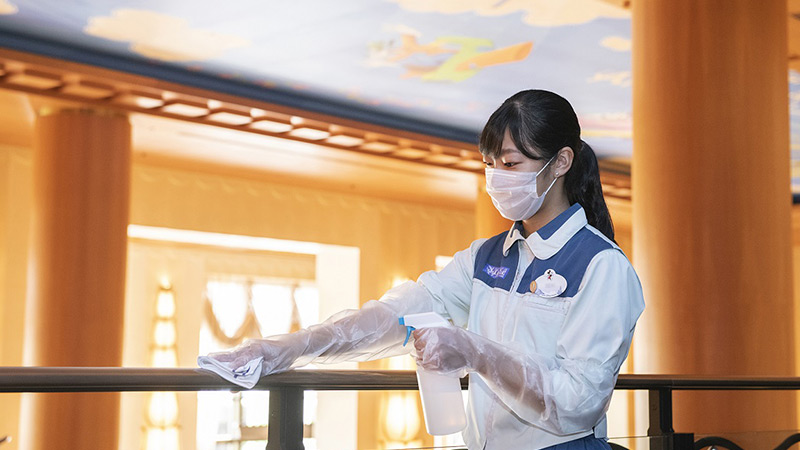 The building will be well ventilated.
Cast members will be temperature-screened when they arrive at work, and will wash and sanitize hands regularly.
Cast members will wear masks. They will wear gloves when handling guest luggage.
Requests to guests
Take part in temperature screening
Temperature screenings will be conducted upon arrival. If temperatures of 37.5 degrees Celsius or above or cold-like symptoms are identified, we will follow the guidance of local health authorities.
Wear masks
Guests will be asked to wear masks when in public spaces such as the lobby.
Wash and sanitize hands
Guests will be asked to sanitize fingers and hands using the hand sanitizers placed at various locations throughout the building, and wash hands regularly.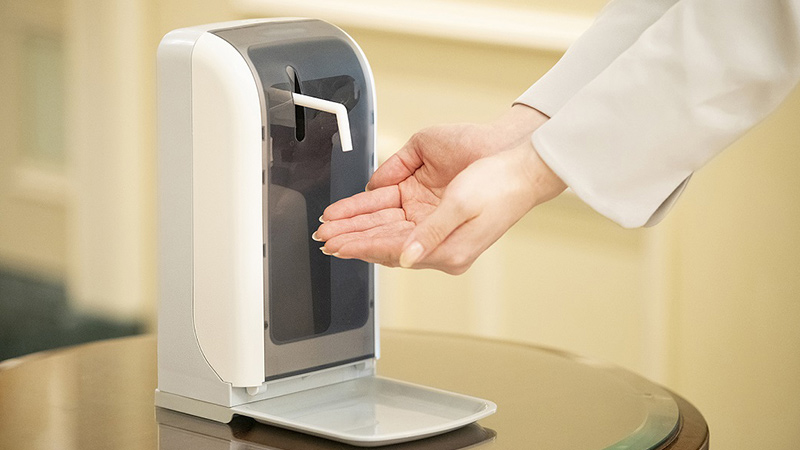 Maintain social distancing
Guests will be reminded to cooperate in order to maintain social distancing when standing in line.
Check-in
The check-in process will be shortened. For detailed information about the facilities, please refer to the hand-out provided or the guestroom television.
Where available, guests are recommended to use the Tokyo Disney Resort App online check-in. After checking in online, guests can complete the check-in process by simply holding their smartphones over the check-in reader in the building.
Required information must be registered in advance.
Not available for some accommodation plans and reservations made by online travel agencies.
This service is only available to Guests resident in Japan(applies to all Guests staying in the room).
Check-out
Guests are advised to complete checkout in their rooms, using the Express Checkout service on the guest room TV.
This service requires you to settle your bill at the Front Desk during your stay. For more information, see Leave without stopping by the Front Desk.
Restaurants and lounges
Guests are requested to wear a mask at all times except when actively eating or drinking.
Please refrain from using the facility if you have a cough, fever or feel unwell.
Parties of more than 5 people may be requested to separate into smaller groups.
Guests wishing to dine at the hotel should book in advance.
Guests can view the menu on their smartphone by scanning the two-dimensional code.
Guests are asked to wear a mask when using the buffet.
Entry restrictions may be put in place.
Payment
Cashless transactions using credit cards are recommended.
Park entrance
We ask guests to have their entire party together before queuing at the Park entrance and refrain from having members of their party join them in the queue later.
* Individuals for whom the following applies are asked to refrain from visiting.
Guests who have been in close contact with individuals who have tested positive for the new coronavirus
Guests who have family members or close acquaintance who are suspected of being infected
* Elderly people and people with medical conditions who may develop serious symptoms if infected are advised to consider cautiously whether to visit.
* Guests who have stayed abroad, we comply with the quarantine measures standards set by the Ministry of Health, Labor and Welfare when entering Japan.