ATMs (Sumitomo Mitsui Banking Corporation)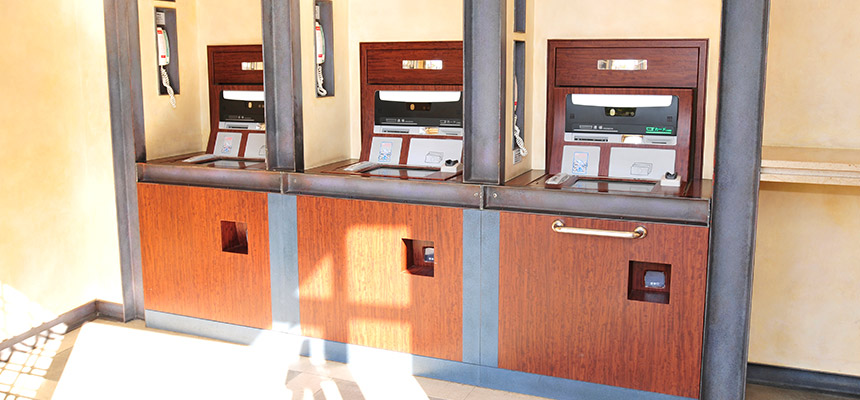 ATMs accepting cash cards and credit cards are available.
Information
Hours
ATMs operate daily from 8:00 a.m. to 9:00 p.m. ATM availability may vary depending on Park opening hours and card type.
Cash advance service availability depends on the bank card or credit card you use.
Transaction fees may be charged depending on the time of day.
- For details such as service hours, accepted cards, and transaction fees, please check with your bank or credit card company.

Number of ATMs
3
Credit Cards
JCB and other major credit cards, as well as major debit cards and major branded prepaid cards, are accepted at Tokyo DisneySea.

- Some credit cards issued outside of Japan by MasterCard may not be accepted.
- Some debit cards issued by J-Debit or China UnionPay may not be accepted.
- Credit or debit cards may not be accepted at some facilities or for some merchandise.
- A signature is not required for one-time purchases of ¥30,000 or less.

Note
Credit and debit cards cannot be used in the following cases.
・At balloon vendors, food carts
・When purchasing stamps, gift cards, meal vouchers, IC telephone cards, etc.

Transactions cannot be processed when
・The person using the card is not the person the card was issued to.
・The card is not signed on the back or the signature on the receipt is different.
・If your credit card company requires us to contact them by telephone, please be aware that it may take some time.
Foreign Currency Exchange
Major foreign currencies can be exchanged at the Guest Relations (inside the Park) or at Tokyo DisneySea Information (outside the Park).
Foreign currency bills can be exchanged for Japanese yen, but not vice versa.

- Guests can exchange foreign currency of up to the equivalent of ¥50,000 at one time.
- Only foreign currency bills, not coins, may be exchanged.
- Presentation of ID (passport, international driver's license, etc.) is required when exchanging foreign currency (cash).

Currency Accepted
United States Dollars
Canadian Dollars
Australian Dollars
Euros
British Pounds
Swiss Francs
Map