Various Locations ⇔ Tokyo Disney Resort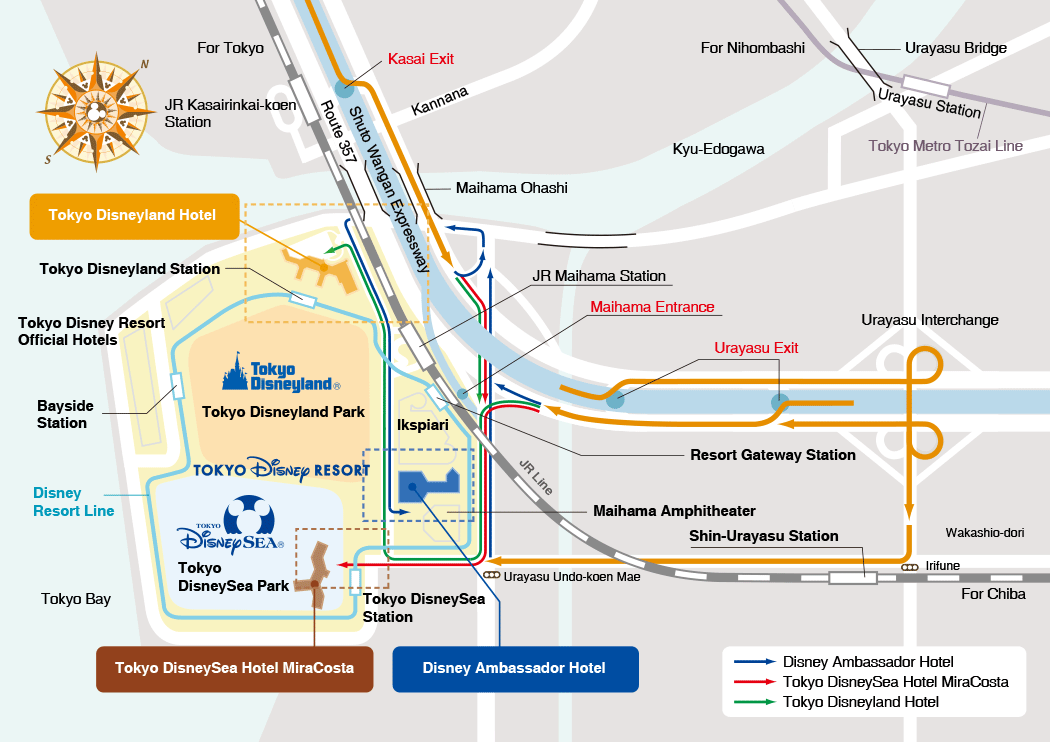 About 5 minutes from the Urayasu Exit or Kasai Exit on the Shuto Expressway Bayshore Route

[Information]
Regarding heavy traffic around Tokyo Disney Resort
On weekends and holidays, the Kasai Exit (nearer to Tokyo) can become very congested. We suggest using the Urayasu Exit instead.
Please be aware that from about one hour before the Parks close, you may experience heavy traffic on the roads around Tokyo Disney Resort as many cars try to leave the area at the same time.
About Parking
Tokyo DisneySea Hotel MiraCosta Parking
Notes:
Parking for the hotel is located in a different area from that for Tokyo DisneySea Park. Please use the Tokyo DisneySea Hotel MiraCosta Guest Parking if you are staying at the hotel.
Guests staying at the hotel
Parking fee
¥3,000 for the first night
¥1,000 for each additional night (per passenger car)
Please pay your parking fee at the Reception counter before checking out.

Parking time
From midnight on the day of check-in
Until midnight on the day of checkout
Please note that a separate parking fee will be charged if you use the Tokyo Disneyland or Tokyo DisneySea Guest Parking areas.
Please show your parking ticket when you check in. (You can enter and exit Guest Parking as many times as you like during your stay at the hotel.)
Please use the outdoor parking area when the indoor parking area is full.
You will be charged extra for use of the parking area up to midnight before you check in or after midnight on the day you check out.
Close
Guests not staying at the hotel (for restaurants, banquets, etc.)
Parking fee and time
¥800 for the first hour
¥400 for each additional 30 minutes

Notes:
Some hotel restaurants and facilities offer parking benefits for certain categories of use. Please contact a Cast Member at the restaurant or facility for more information.
Close