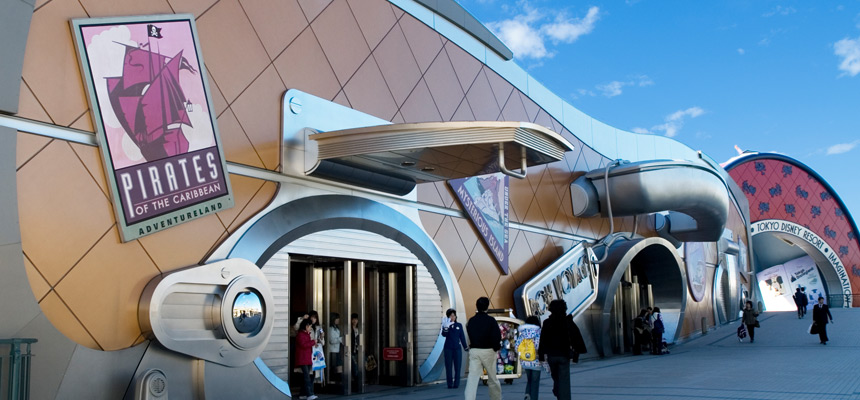 At Bon Voyage, you'll find the grandest selection of Disney merchandise available under one roof anywhere in Japan. "Bon voyage!" means "Have a good trip!" in French. Conveniently located next to JR Maihama Station, at the gateway to Tokyo Disney Resort, Bon Voyage welcomes visitors to the Resort as they begin their journey and bids them farewell as they set off on their return.Bon Voyage offers Resort visitors a rich selection of Tokyo Disneyland and Tokyo DisneySea merchandise. Guests can enjoy the shop on the second floor, with the convenience of service facilities located on the first floor. Bon Voyage is the perfect place to enjoy shopping before or after a day of fun and excitement at your favorite Disney Park.
Business Hours
8:00 a.m. to 10:00 p.m.

- Subject to change depending on Park operating hours.
To Enter Shops Requiring Online Reservations
Please make a reservation through the Advance Shop Reservations service. On the day of visit, please go to the shop at the time you reserved.
If the Advance Shop Reservations service is introduced in the future, an announcement will be made on the Tokyo Disney Resort Official Website.
Reservations can be made from 12:00 midnight five days before the day of your visit.
(Reservations are accepted from 11:00 a.m. on the first day when reservations are accepted, and from the second day, reservations will be accepted from 12:00 midnight.)
Only Guests who have made an online reservation may enter the shop.
With one reservation, up to four persons can enter the shop.
Reservations can be made once per shop per day.
Operations may be suspended, the current conditions may be extended, or the shop may temporarily close without notice.
Please Note
Cast Members will ask for the booking confirmation email before you enter the shop. Please have the confirmation email ready on your smartphone or have it printed out.
You may have difficulty loading the Advance Shop Reservation service if there is a high volume of visitors to the page. If so, please try again after a while.
Other Notes
The reservation does not guarantee the availability to purchase specific items. Please note some items may be sold out.
Depending on the number of guests entering the shop, guests without reservations may be allowed to enter the shop.
Types of Available Merchandise
For details about the types of merchandise available at each shop, please check the Tokyo Disney Resort App (in Japanese only).
Please note that the merchandise may be sold out.
Shop Location
Located on the pedestrian deck between JR Maihama Station and Tokyo Disneyland Park. After exiting the ticket gates at Maihama Station, you will see a unique building that looks like a giant suitcase and hatbox ahead to your right. That is Bon Voyage!

- The entrance on the lower level cannot be used. Please use the entrance on the upper level.
Parking
Bon Voyage has no designated parking. When arriving by car, please use the Ikspiari parking lot. Purchases made at Bon Voyage can also be used to validate your parking ticket at Ikspiari, and the same discounts apply. Business hours differ for the Ikspiari parking lot and Bon Voyage