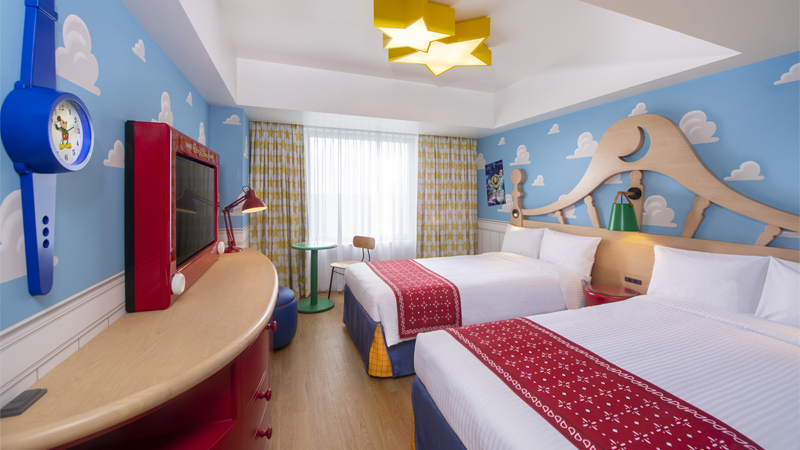 List of Guest Rooms
Check-in: 3:00 p.m. Checkout: 12:00 noon
The hotel offers 575 standard rooms and 20 superior rooms for a total of 595 rooms. All rooms feature a design inspired by Andy's room from the Toy Story films, featuring his iconic blue-sky-and-and-puffy-white-cloud wallpaper, and an oversized Mickey Mouse wristwatch hanging on one of the walls, among other toy-like fixtures and furnishings.
Rooms that sleep up to three guests have two regular beds and a trundle bed, rooms for up to four guests have three regular beds and a pull-down bed.
About views from the guest rooms
Partial View
These rooms, located on the third floor above the main entrance to the hotel, offer views that may be partially obstructed by buildings.

Bay View
These rooms offer views of Tokyo Bay.

Square View
These rooms look out onto Toy Friends Square, a courtyard featuring a collection of toys, games and favorite characters from the Disney and Pixar Toy Story films.
Bed Types and Sizes
Bed
Size (cm)
Maximum capacity per bed - Bedshare is only for children ages 11 and under.
Regular Bed
110 cm × 203 cm × 55 cm
Maximum of 2 Guests (including 1 bedshare)
Trundle Bed
85 cm × 185 cm × 27 cm
Maximum of 1 Guest
Pull-down Bed
85 cm × 185 cm × 35 cm
Maximum of 1 Guest
Crib for infants
65 cm × 116 cm × 109 cm
This bed can only be used by children under 18 months of age.
- Advance reservation required