Precious Celebration Set
Up to March 31, 2021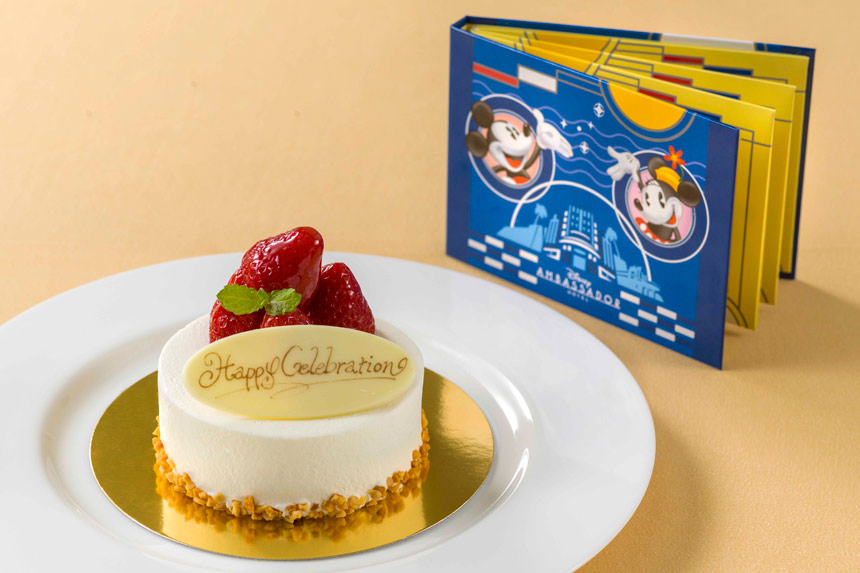 ¥3,600
There is a separate charge for the meal.
You must order a meal in order to add this plan.
[Available times] Lunch or dinner
Guests dining at Empire Grill can choose a commemorative plan that's perfect for celebrating a special occasion. Create memories that will last a lifetime on your special day.
[Plan details]

・Whole cake (diameter: approx. 9 cm)
・Original photo frame
A photo taken by a Cast Member will be included in the original photo frame. (1 L-sized photo)
The original cake cannot be taken out.
Menu and prices are subject to change.
Reservation Method
Please reserve at least two days in advance.
The restaurant reservation must be made separately in order to reserve this plan.
Tokyo Disney Resort Online Reservation & Tickets
You can apply for the plan when you make a reservation for the restaurant you wish to visit. You can also add the plan after making the restaurant reservation by logging in and going to the My Booking page.
Online reservations are accepted up to 8:59 p.m. two days in advance.
Tokyo Disney Resort Online Reservations/Purchasing Support Desk
Phone Inquires
Hours: 10:00 a.m. to 3:00 p.m. (7 days a week)


The above phone number is not toll-free. Any phone charges must be covered by the caller.
Calls from mobile phones and smartphones are charged 10 yen per 20 seconds (excluding tax).
This number cannot be used when calling from IP phones or international numbers. If your call does not go through, please call +81-45-330-9697.
Your call may be recorded for the purpose of checking the content of the call and the quality of our operator's service.
Interpreters may be provided for inquiries in English, Chinese, and Korean, but may not be available depending on circumstances.
The following services with regards to the Tokyo Disney Resort Online Reservations & Tickets website are available:
User Registration Inquires
Website Navigation Inquires
Merchandise Inquires
Reservation/Purchase Inquires
Inquiries, Changes, and Cancellations regarding Online Reservation Privileges
We request that inquires related to reservations or purchases be made by the holder of the User ID who made the transaction, or the individual registered for the transaction.
Menu details may change without prior notice. Also, please be aware that items may not be available if sold out or if the sales period ends.
Dining hours vary depending on the restaurant. Also, restaurants may close early due to high attendance, inclement weather, or other reasons.
Photos and illustrations are for illustrative purposes only.
Guests planning to operate a vehicle and persons under age 20 are prohibited by law from drinking alcoholic beverages.