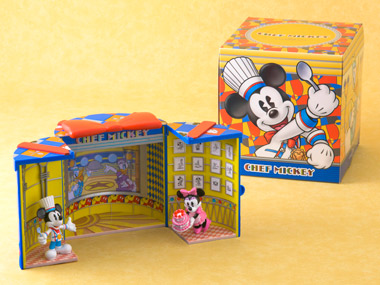 ¥3,700
There is a separate charge for the meal.
You must order a meal in order to add this plan.
[Available times] Lunch or dinner
Guests who dine at Chef Mickey will be provided with adorable items featuring a design of the Disney friends. The commemorative item will be given to Guests during the Guest-participation program that takes place in the restaurant.
[Plan details]

・Original photo stand
Menu and prices are subject to change.
Reservation Method
Please reserve at least two days in advance.
The restaurant reservation must be made separately in order to reserve this plan.
Tokyo Disney Resort Online Reservation & Tickets
You can apply for the plan when you make a reservation for the restaurant you wish to visit. You can also add the plan after making the restaurant reservation by logging in and going to the My Booking page.
Online reservations are accepted up to 8:59 p.m. two days in advance.
Tokyo Disney Resort Reservations Center
To reserve a hotel room or to book a guided tour or restaurant

From April 4, 2020 until further notice, please contact Tokyo Disney Resort Online Reservations/Purchasing Support Desk instead for reservations and inquiries.
Hours: 9:00 a.m. to 5:00 p.m.
Note: The hours will change to below from April 6, 2020 until further notice.
Hours: 10:00 a.m. to 4:00 p.m. (daily, JST)


From overseas, please call +81-45-330-0101

Calls may be recorded to verify the contents of the Guest's request or to check the operator's handling of the call.
Priority Seating reservations can only be made through the Tokyo Disney Online Reservations and Tickets website. Thank you for your understanding.
Operators at the Tokyo Disney Resort Reservations Center respond to messages left on the Automated Voice Information Service to provide guidance and answer queries.
Menu details may change without prior notice. Also, please be aware that items may not be available if sold out or if the sales period ends.
Dining hours vary depending on the restaurant. Also, restaurants may close early due to high attendance, inclement weather, or other reasons.
Photos and illustrations are for illustrative purposes only.
Guests planning to operate a vehicle and persons under age 20 are prohibited by law from drinking alcoholic beverages.